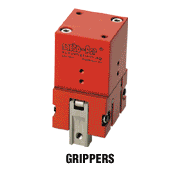 Welcome to Meto-Fer Automation
Meto-Fer Automation has been manufacturing and supplying quality automation components and systems for over 30 years. The company features an extensive line of automation components, electronic sensors, linear transfer systems and automatic handling systems.
All components provide peak performance for millions of cycles, and when the initial life-cycle has been achieved, each component can be restored to original operating efficiency, quickly and easily, using our available seal and bearing kits. Thus, Meto-Fer components offer many years of exceptional and consistent service.
Search the site to find the products or services of interest to you. Browse major categories to learn more. Download select sections of the product catalog, product literature and useful CAD files. If you need more information, please use the information request form.
Read Testimonials from Satisfied Customers
Recommended Automation Systems Integrators
COMPLETE REPAIR SERVICES AVAILABLE
We offer complete repair / rebuild services for pneumatic components.
Customized repair programs are available upon request.

MF Automation offers a comprehensive line of electronic components including sensors, qe sensors, sensing elements, thru beam sensor, proximity switches, inductive proximity switches, stop screws, and cables.
An extensive line of automation components includes ml units, stop slides, linear cylinders, linear slides, pneumatic slides, mini linear units, mini slides, ball screw drives, alignment slides, electric linear actuators, timing belt slides, timing belt actuators, and height gages.
Other automation solutions include electric twin rail positioning tables, gantry systems, x-y tables, x-y axis alignment slides, grippers, 180 degree angular grippers, parallel grippers, three jaw grippers, 2 finger parallel grippers, high quality grippers, pivot grippers, three finger angle grippers, semi parallel grippers.
MF Automation features components including rotary loaders, rotary actuators, md units, pneumatic rotary actuators, swivel units, angle loaders, rotary drives, rotary gripper heads, and rotary indexing.
Specialties include automatic spring feeders and spring untanglers, offering an effective solution for detangling and dispensing springs and feeding springs.
MF Automation's modular components are ideal for the assembly of automatic pick and place, units, and integration of pick and place units with vibratory bowl feeders.
MF Automation offers extensive experience in the repair and rebuilding of automation components, specializing in pneumatic cylinder repair, pneumatic repair, rebuilt pneumatic components, repair of automation components. Refurbished automation components are sometimes available for sale (please call for availability).
MF Automation provides a variety of solutions to automated assembly including linear pallet systems, over/under systems, linear transfer systems, conveyor systems, pallet belt conveyors, pallet systems, pallet elevators, non-synchronous pallet systems, pallet non-synchronous, assembly systems, handling systems, load stations, turn key systems, tray storage units, automated tray changers, machine vision systems, manual work stations, automatic work stations, and production machines. Areas of expertise include industrial automation, flexible assembly solutions, and modular automation.
Additional areas of expertise includes automated assembly, automation, equipment automation, precision automation, shaft hoppers, automatic assembly systems, elevating tables, work cells, vacuum cups, flow control valves, elastomer cushions, oil cushions, shock absorbers, assembly, lift tables, spring winding machines, and assembly stations.